Power Supply Repair
Here is a small list of the types of Power Supples we repair.

Switch Mode Power Supply

High Voltage Power Supply

High Current Power Supply

Linear Power Supply

DC Power Supply

DC Battery Chargers
If you need your Power Supply tested or repaired then give us a call at
1-336-969-0110
At Industrial Electronic Repair we offer Free Estimates of your Power Supply. We send you a Quotation and if approved your power supply is repaired and tested under load. If the Quotation is not approved we return the unit at no cost to you. All Power Supply repairs are warranted for 1 year.
---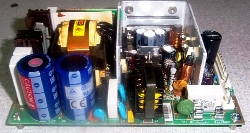 ---
Click the Supported Power Supply Manufacturers link below for all the power supply manufacturers we service and repair.
Supported Power Supply Manufacturers
Comments (0) 20.03.2007. 20:37
New comments:
Contact Info
If you need your unit tested or repaired
then give us a call at
1-336-969-0110.
We give free estimates and offer a year warranty.
Industrial Electronic Repair
1379 S Park Dr
Kernersville, NC 27284
Voice 1-(336)-969-0110
Fax 1-(336)-969-0101